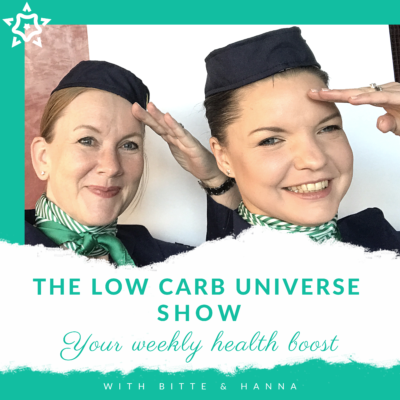 Real Food Keto & The Family Hike
Podcast: Play in new window | Download
It's Wednesday again – and time for your weekly health boost with us on The Low Carb Universe Show! This week, we talk about real food keto & the family hike from the comfort of our own recording studios (Bitte's laundry room & Hanna's closet). But that's, of course, not all! We also talk about the following… plus much more! :
The Weather
Hanna's real food keto dinner in Zürich
Hanna's horrible night – what was the boost in that?! It relates to gratitude! 
…and her yoga class that was self love on the highest level <3
Bitte's family has joined her!
The Family Hike & Bitte's fitness level
…and her stunning lilies! Plus Bitte's best tips to take care of them.
THE BIGGEST BOOST OF THEM ALL – THE LOW CARB UNIVERSE 2019! The excitement, the goose bumps, the countdown! Join us: bit.ly/lcu19
So grab your walking shoes, coffee cup and blanket or let us make your commute that little bit better. And we'd love to hear form you – what's your health boost this week?
Ps. You can still join us at our signature event The Low Carb Universe 2019! And you get 10% off your ticket using code 'LCU19' at checkout, too. Yay! More info here: bit.ly/lcu19
https://thelowcarbuniverse.com/wp-content/uploads/2019/07/LCU-Show.png
3000
3000
Hanna Boëthius
/wp-content/uploads/sites/10/2018/12/TheLowCarbUniverseLogo2019.png
Hanna Boëthius
2019-10-30 10:04:12
2019-10-30 10:04:12
Real Food Keto & The Family Hike