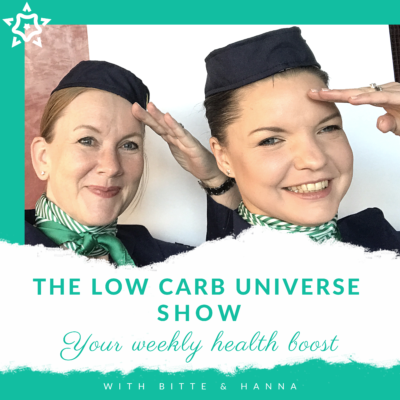 Cluster boosts & Birthday
Podcast: Play in new window | Download
Cluster boosts & a Birthday – welcome to this weeks health boost with us on The Low Carb Universe Show!
In this episode, both of us share a cluster-boost, health, happiness, movement and joy. As well as:
Bitte's friend came to visit
They hiked in Puerto de Sóller, visited Hotel Esplendido (where our events take place) and did a guided meditation
They watched lots of rom-coms (because they are life)
Benefits of eating real foods & the wish to attend our The Low Carb Universe 2019 retreat
Hanna's final HbA1c & the amazing feeling of being a blip in the system
Hanna's birthday! Hear all about the celebrations & Maria Emmerich's (speaker at our event!) beyond amazing butter pecan cheesecake Yum!
Feeling loved
The gratitude of getting to start another year
The importance of Facebook/social media birthday greetings
Self secure & more authenticity with age!
"Become a star in The Low Carb Universe" – grab your ticket to our retreat in Mallorca here: bit.ly/lcu19 
Take us along for a walk, your coffee break or let us make your commute more bearable!
We would love to hear from you – what's your health boost this week? Share it with us in a comment!
https://thelowcarbuniverse.com/wp-content/uploads/2019/07/LCU-Show.png
3000
3000
The Low Carb Universe
/wp-content/uploads/sites/10/2018/12/TheLowCarbUniverseLogo2019.png
The Low Carb Universe
2019-10-02 09:00:38
2019-10-01 15:34:21
Cluster boosts & Birthday